**PLEASE NOTE: ALL MONTHLY HOSTING FEES HAVE BEEN RAISED TO $24.95 PER MONTH AS OF 2/1/2023 TO HELP COMBAT THE INCREASE IN OUR SERVER PRICING. THANK YOU.
Our Three Page-Business sites start at only $499! - Sign Up Today to get an additional 20% OFF!
20% OFF Web Design Services for Small Businesses & Start-Ups in Phoenix, AZ, and surrounding areas!
Our three-page business websites start out at only $499! And include a FREE .com domain name!
*.com name is subject to availability.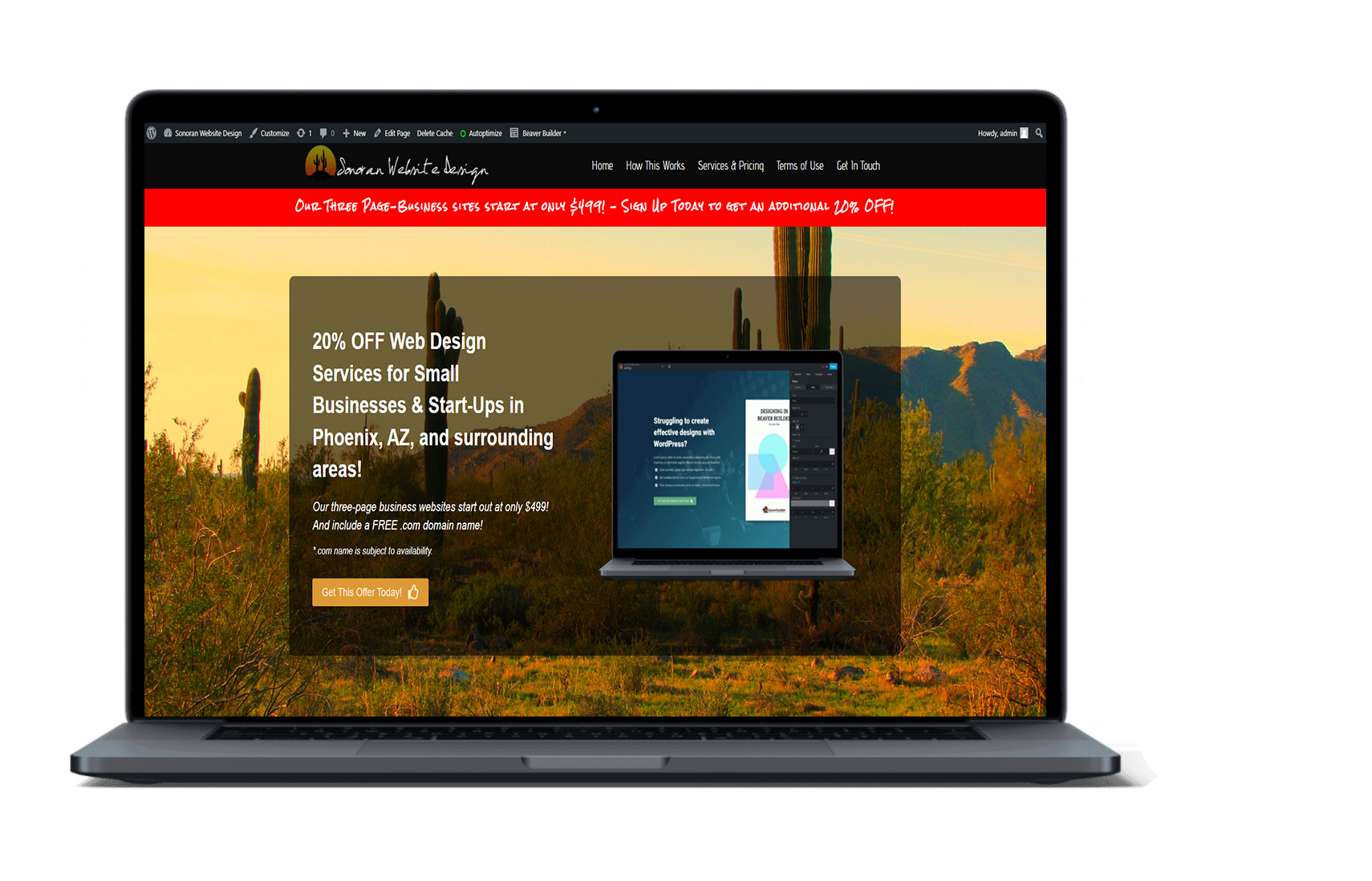 Custom Designed Three Page Website (Home Page, Services Page, & Contact Page)
Custom Designed Logo & Up to 3 Custom Designed Graphics/Images
Set-up & Configuration of Several Google Services (Gmail, Analytics, FREE GMB Listing, etc.)
Manual Submission to top 20 Search Engines + Local Biz Listing On SonoranBizDirectory.com
Monthly Hosting, Site Backups & Updates, Live Support, Virtual & In-Person Training - Free for first 30 days*
Custom Domain Email Address & Set-up/Configuration of SEO Tool
Sign up today to get 20% off your first website! That's $100 off!
**After the first 30 days - the Montly Hosting & Support Fee is $49.95 per month to manage a business level website. This includes, but is not limited to: Website Hosting, Site Backups, Site Updates, Live Support, Virtual & In-person Training, & more.
Our Five-Star Google Rating + Reviews






LOOK LIKE AN EXPERT RIGHT FROM THE START.
Our award-winning designs are the most beautiful way to present your ideas online. Stand out with a professional website, portfolio, or online store.
Think of Sonoran Website Design as your very own IT department, with unlimited hosting, top-of-the-line security, an enterprise-grade infrastructure, and around-the-clock online support.

Call Us Directly - Toll Free +1 (844) 758-9001
Sonoran Website Design LLC - Website Professionals